HERE IS WHERE IT ALL STARTED
On behalf of Sister Harter and myself, we wish to express our deepest appreciation to everyone who labored, made donations, and everything else that was required in order to get this building completed. Initially constructed in 1969 as the last building actually built at Miracle Valley by Rev. A. A. Allen, this building was totally remodeled with new wiring, plumbing, heating & air-conditioning, metal roof and completed in 2007.

---

Pastor Peter Contreras and his wife Phyllis, pastors of the Bethel Pentecostal Church located in Blue Island, Illinois (near Chicago), brought carpenters and young people to Miracle Valley to help build walls in the childcare building. Peter graduated from Miracle Valley Bible College and Phyllis graduated from Miracle Valley High School. They are both alumni of Miracle Valley. They have a real heart for Miracle Valley and are excited about Miracle Valley's restoration.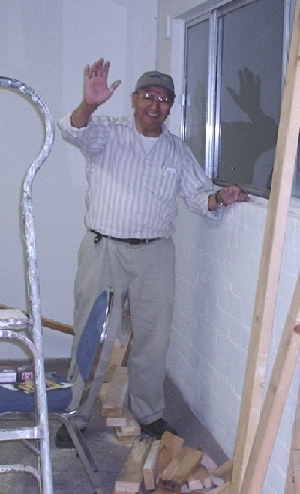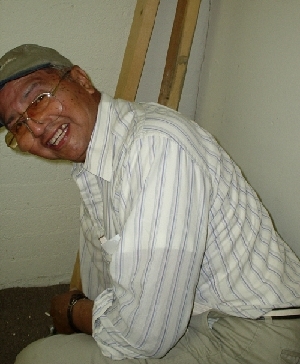 Hello. I am from Bethel Pentecostal Church in Blue Island, Illinois. I am a carpenter by trade, and I have come to give of my time and energy to see Miracle Valley restored. I am excited to be here. We are a long way from home, but this is something we really like to do. You know, helping the work of God wherever we can. I am building in this section of the building. There is much to do. Why not come and join with us in up-dating these buildings so they can be utilized again.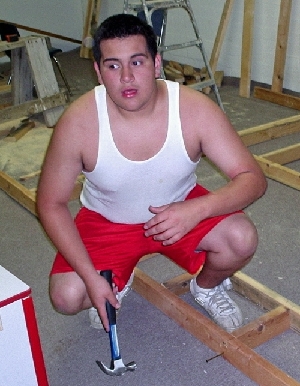 Hi everybody. I belong to Bethel Pentecostal Church Youth Group. Nearly 30 of us have come to help at Miracle Valley. Hum, let's see. Where does that nail go? Well, anyway, I'll figure it out. Why don't you come down to Miracle Valley and join in helping us to restore this campus?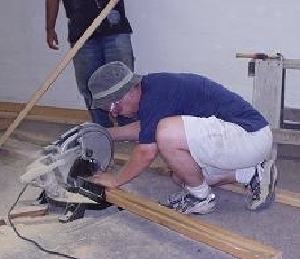 Hello. We Blue Island Youth Group are cutting the boards so they can be nailed to the wall. Let's see. Exactly where do we put this? Still, we have more boards to saw. That nail goes in here somewhere. Okay, now I know where. We wish you all would come down and help out with the work of God here. We know you will be greatly blessed.



I'm just taking a short break. Pretty soon I will be back on the wall. We could use your help. Pray about coming and helping out at Miracle Valley. You can see it takes a lot of men to get this wall completed. There are more walls to build, so we can really use more workers. Come on down and help us.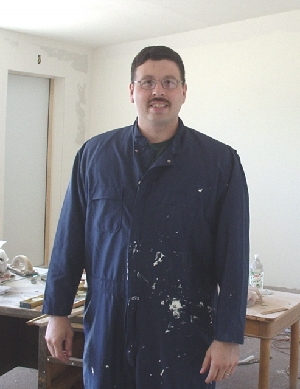 Hello everyone. My name is Israel Aguillar. I live in Stryker, Ohio. My family and I have taken our vacation time to come and help out at Miracle Valley. I have been mudding the drywall and doing some sanding as well. If you do drywall work, we could use your help here. Why don't you prayerfully consider about donating a week or two of your time and help Dr. Harter remodeled and restore the buildings at Miracle Valley?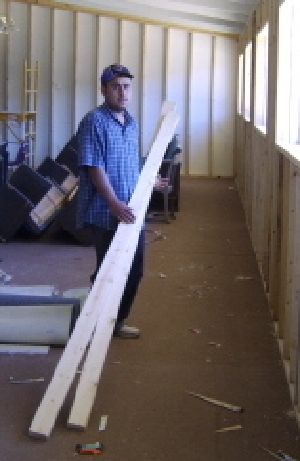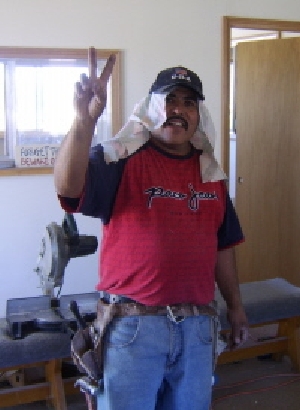 Hi. I am Ishmael in the left photo. I am helping to build walls in the large muscle room in the childcare building. Hey everyone. I am Roberto in the right photo. I live just a few miles down the road from Miracle Valley in a place called Naco, Arizona. I minister to Mexican people in Naco, Sonora, Mexico. It is great to help out here in Miracle Valley.



I have been working some outside today. I don't want to get a sunburn, so you can see what I did to prevent that from happening to me. At least I know how to keep cool. I am busy building some walls, insulating and getting ready to hang the sheetrock. Still there are more boards to cut. We could really use your help at Miracle Valley. Why not consider coming down and helping out. I know you will be greatly blessed.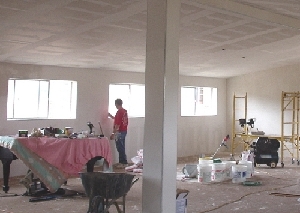 Hi. I'm Tim Carroll. I am from the great State of Washington. My family and I have a sincere love for Miracle Valley. I am excited about being a part of its restoration. We have the sheetrock all up. Of course, other volunteers have put all of the insulation in, and Jim's Electric has installed new wiring. So my job is to spray these walls. We are putting the final coat on the sheetrock. We will be giving it a southwest knock-down look. This building will soon be up-to-date and totally remodeled. Praise God!

JUST A SPECIAL APPRECIATION TO

REV. PETER CONTRERAS, PASTOR OF THE BETHEL PENTECOSTAL CHURCH IN BLUE ISLAND, ILLINOIS for donating funds to purchase needed insulation for this building.

and to

REV. BUD YODER, PASTOR OF THE MIRACLE REVIVAL CENTER CHURCH IN BRYAN, OHIO for donating funds to purchase needed drywall for this building.